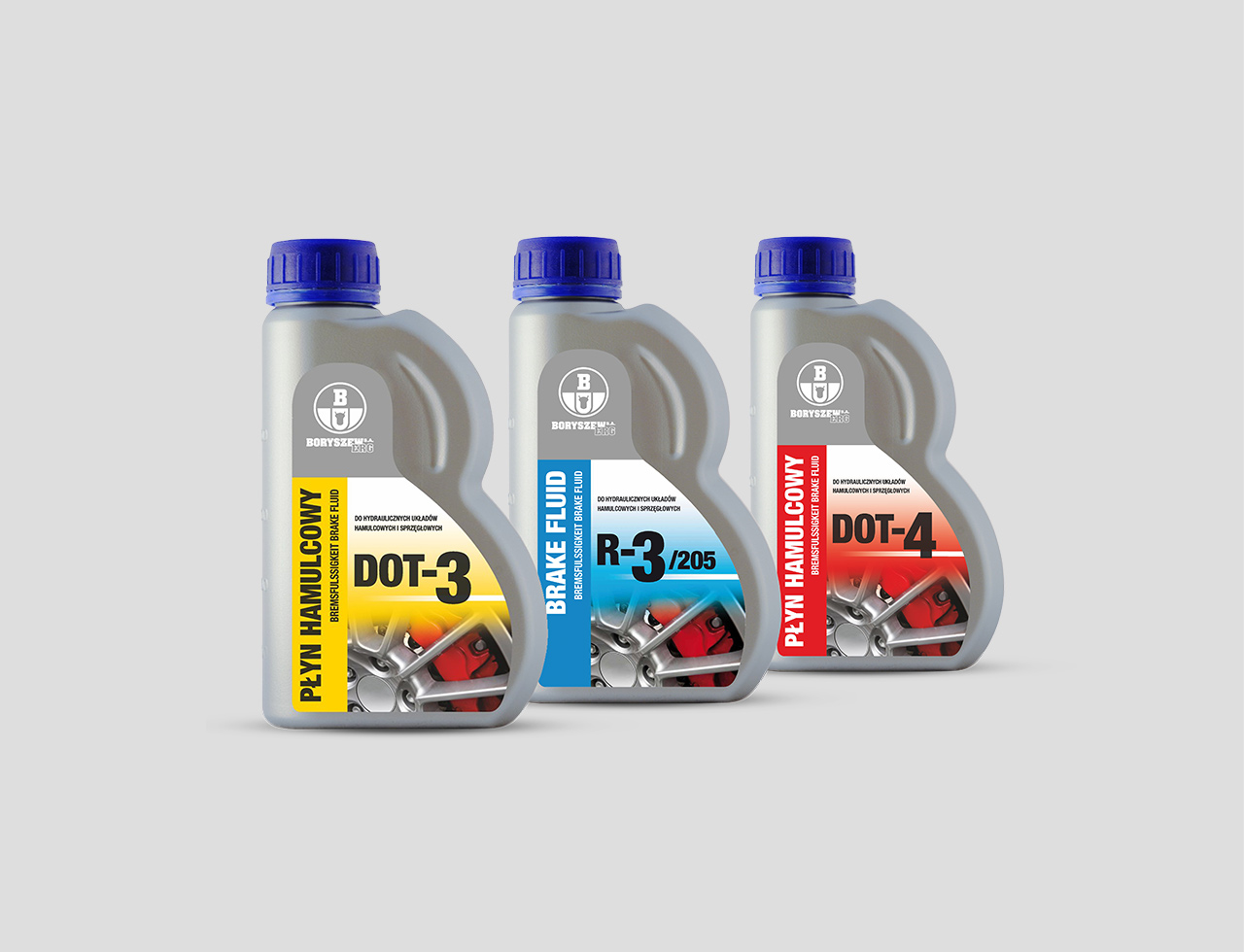 Brake fluids
To our customers we offer three types of brake fluids: DOT-3, DOT-4, and R-3/205, designed for different types of cars
Can be used in drum brakes, disc brakes, ABS/ESP systems, clutches, and wherever the instructions recommend their use
Fluids meet the applicable requirements of SAE J 1703, FMVSS 116, and ISO 4925 and the requirements of the American standards Societe of Automotive Engineers (SAE) and the Department of Transportation (DOT) .. They have ITS issued Certificate of Conformity and Certificate for the Safety Mark B. Available in packaging of a capacity of 0.5l, 5l, 20 kg. The products are covered by a 2-year manufacturer's warranty.
high boiling temperature
good lubrication properties
long service life
stable viscosity over a wide temperature range
neutral for metals, rubber and plastic parts in the braking system
Fluid can be mixed with all fluids that meet these requirements, except for organic fluids. Car manufacturers most commonly recommend replacement of brake fluids after 2 years of operation or driving 40 000 km, pointing out the importance of regular replacement for service life and efficiency of the systems and driver safety.
Brake fluid - which one?
Braking system is one of the most important factors affecting driving safety. Its proper operation can be taken care of by regular brake fluid level checks. When you need to refill it, you should have a high quality fluid on hand. When selecting a brake fluid, we need to pay attention primarily to its class, which will allow for optimal selection of an operating fluid to the type, make, and model of our car. Basic types of brake fluids available on the market, which differ mainly in the boiling point:
Break fluid DOT-3 – it is base is generally glycol ether, and its boiling point reaches 205°C.
Break fluid DOT-4 – in addition to glycol ether, it contains borate esters, thus its physical properties are better than in DOT-3, including higher boiling temperature of 230°C for pure fluid, and 155°C for water containing fluid. When using this liquid it is worth to remember that it has higher and more stable boiling point in the early stages of use of the product. When water starts to be absorbed, the boiling point of DOT 4 fluid tends to drop faster than compared to DOT-3 fluid.
Brake fluid R3 – used in older types of vehicles with disc and drum brake systems.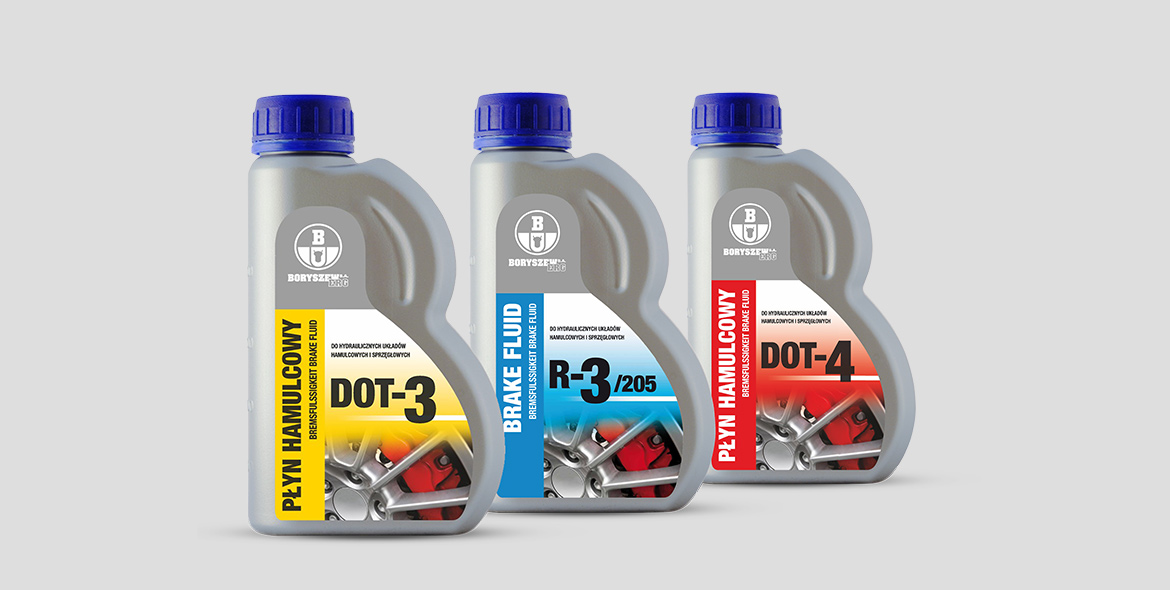 How often to replace brake fluid?
Taking care of the driving safety you should regularly check the condition of the brake fluid. Its gradual usage translates into a deterioration in the efficiency of the brakes, and failure to replace it may also lead to corrosion of the entire system, resulting in faster wear of brake pads, linings, discs or drums. Brake fluid is hygroscopic – absorbs moisture from the air. Its boiling point drops and moisture enters the system and consequently can lead to liquid boiling upon longer or more rapid braking. Therefore, it is recommended to replace the brake fluid every two years or 60,000 kilometres, and its level should be checked during every service and any intervention in the braking system.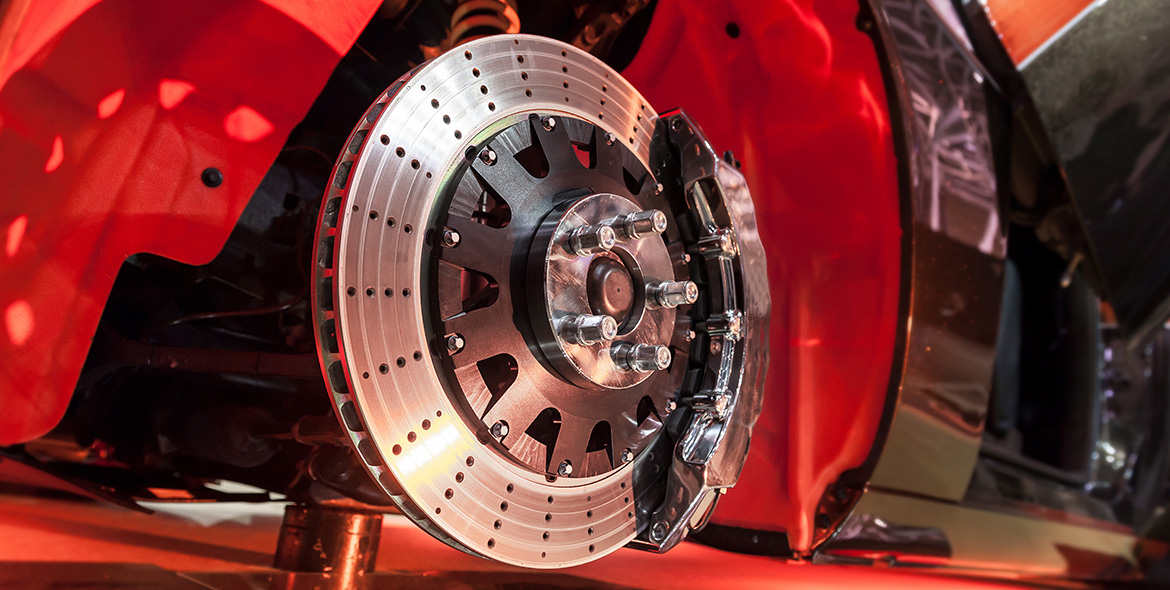 Reliable BORYGO radiator fluids
Borygo is not only a known brand
BORYGO is a symbol that stands for good and reliable coolants, used for years in passenger cars and trucks. BORYGO offer is addressed not only to the individual customer, but also to companies and car, bus, tractors, and construction equipment manufacturing plants.
Automotive fluids - for radiators, washers, and brake fluids
A group of automotive products manufactured in Boryszew ERG, in addition to coolants, also includes specialized windscreen washer fluids Borygo for windscreen washing and brake fluids.
Fluids for the aviation sector
Recently, the Borygo family has expanded by products dedicated to the aviation sector, including de-icing fluids for aircraft surfaces and de-icing agents for runways.
Call Now Button
+48 46 863 02 01